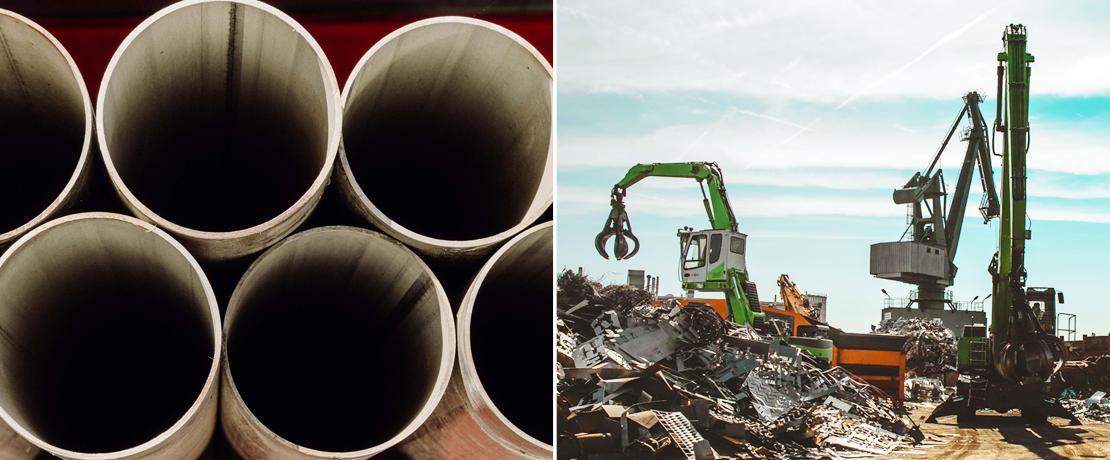 For more than 100 years the Westarp company has been engaged in the collection of iron scrap. Already at the beginning of the industrialisation in the Ruhr area it is mentioned in public documents that scrap iron was collected by the Westarp family. What could not be directly reused, was also recycled back then. Today's word recycling was anyway the basic principle of the economy. Today, as in the past, scrap iron is a coveted raw material and the basis of the iron industry worldwide. In accordance with today's requirements, the product range is divided into two main streams: raw materials for the foundry and steel industries.
Foundry Industry
In our specially designed warehouses, the following products are manufactured in presses, shears and crushing plants after sorting and control:
Machine-cast iron scrap Grade 2a
Trade casting
DB rail sections
Stamping waste in various alloys
Foundry packages 30 x 30 x 30 cm
in deep-drawing, Si or black plate quality
stacks of colored sheets
Heavy plate cupola
Carrier cupola
Special cupola types like SOZ
and much more besides
Extract from the list of foundry waste
Steel industry
For the steel industry, in addition to special scissor scrap products, the usual qualities of the scrap list are professionally processed, temporarily stored and delivered on time. The technical effort involved here is enormous. Among other things, large shears and baling lines as well as a modern handling hall for FE-chips are operated.
Handling "under roof" prevents additional mixing and blending of rainwater or surface water with drilling emulsion and similar substances.
FE-chips are dried and the small amount of residual emulsion resulting from storage is temporarily stored in special containers and later fed into a proper disposal or recycling process. But also other special or problematic materials are treated separately:
For example, oil-containing gears and system components are cleaned of adhesions at a washing station approved for this purpose. Oils, residual oils and emulsions or grease-water mixtures are disposed of separately. Proper storage, transport and delivery to the consumers are optimally guaranteed.
Alloyed scrap
chrome steel chips, V2A and V4A waste or chips or high-alloy materials - we are happy to be your competent partner for all these types.
Extract from the steel industry variety list