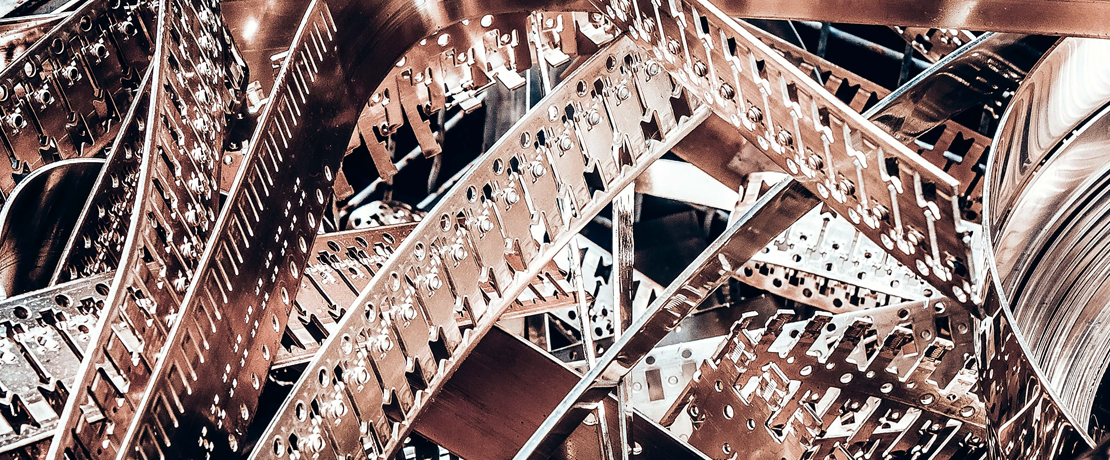 In our non-ferrous metals department, all metallic production waste and used materials are accepted, analysed, sorted and professionally processed. An extensive stock enables us to take advantage of the constant market movements for the benefit of our customers and to always offer interesting conditions. A great advantage for our customers is that we have a view of the metal exchange (LME) at all times. Typical trading functions - balancing price and quantity - are fully guaranteed.
Copper
The usual types of copper - from millberry and electrolyte material (E-Cu rail and stamping material with at least 99.9 % Cu each), as well as Cu granules 1a coarse or fine, Cu granules II over copper sheet and tube waste (new bright), heavy copper with at least 95 % Cu, copper catenary wire, enamelled copper wire or also copper cable - are purchased at daily market prices. Copper is an essential raw material which is used in the electrical engineering industry as well as by plumbers, plumbing companies or electrical firms. Our various copper qualities are gladly accepted and processed by many foundries, smelters and copper smelters.

Brass, gunmetal, bronze etc.
All common copper alloys such as brass, gunmetal and rolled or cast bronze are gladly accepted by us at normal commercial prices. Here we distinguish between different qualities (e.g.: Ms 58, Ms 63, Ms 70) and forms (e.g. waste, chips).

Primary aluminium
such as Al-profiles Si 0.5 bright, painted or insulated, pure aluminium wire RAL 99.5, Al-Offset plates, AlMg1-5 sheet or punching waste, Al-rims without adhesions, pure Al-construction scrap (containing Zn).

Secondary aluminium
such as various cast aluminium alloys with and without adhesions, aluminium chips of various alloys, loose, as a package or briquette, aluminium sheet, blank or lacquered/foiled with and without adhesions, aluminium skimmings, aluminium finishing profiles, aluminium tableware, aluminium profile chips Si 0.5, aluminium cables, aluminium foil scrap, aluminium sheet shredders, aluminium profile shredders, and much more. Precise pre-sorting and modern processing plants guarantee optimum quality for our customers.

Zinc
Old zinc , new zinc, lettering zinc, zinc castings (zamac) as well as dross and ashes are constantly handled in our warehouse. We are excellently equipped by our future-oriented company facilities from the warehouse to the transport department.

Lead
balancing lead, old soft lead or various lead alloys - even old batteries are recycled to an astonishing extent and treated by us in accordance with regulations.

Magnesium
This old and yet again young metal is of particular interest. Since magnesium can save weight even compared to aluminium, a further substitution has been taking place recently. Magnesium requires special care during storage and handling, as it is easily ignited.

Titanium
Due to its special properties, titanium is mainly used in the medical, aviation and aerospace industries. Whether pure titanium, ferro-titanium or titanium alloys - all different types are accepted by us, stored separately and returned to the processing industry.

Leg. Materials including Ni-containing
Here, a distinction is mainly made between low- and high-alloy scrap. Low-alloy scrap such as V2A and V4A, also known as stainless steel or rust-proof steel, is not only found in industry, but also in many objects of daily use. High-alloy scrap such as Inconell, Waspaloy, Hastalloy, Maraging or Monel are mainly used for high temperature applications.


Special alloys e.g. zirconium
Zirconium is a silvery shining heavy metal, it resembles steel on the outside. An important application for zirconium is e.g. fuel rods for nuclear power plants, surgical tools or chemical apparatus engineering. Zirconium is available in different alloys, also called Zircaloy. This metal alloy then consists of more than 90 % zirconium.